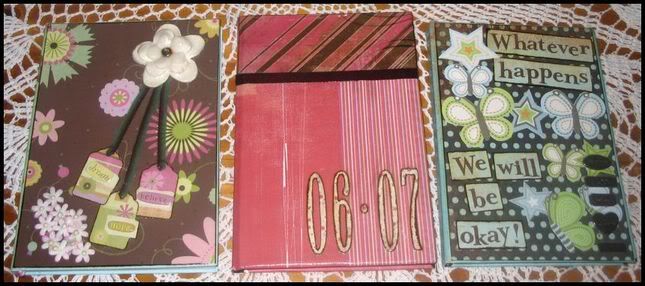 Some journal covers I have been working on, starting from blank notebooks. The first one is a new journal, that I will start writing in when I leave for London, the second is a 2006/2007 planner/diary (as I need to be a bit more organised that I am currently), the third is a journal for someone who asked me to do one for them, with those words on it. I think I am mostly happy with how they turned out. Crafting relaxes me, mostly.

Second to last day here at work; I've been clearing everything off the harddrive (oh, 30 gig of music, videos, pictures, random files... 8 months of being an Internet Lounge wench), and trying to tie up any loose ends before I leave. I got another request from a recruitment agency in London to contact them when I arrive; that makes 4 definite interviews, and 4 agents who have requested I call them when I get there to arrange a meeting. Not to mention all the other many job agencies I have bookmarked to get in touch with as well. I'm quite confident about my job prospects when I get there.

I made a blog, for my friends & family (& Ben & Millie) to read while I'm away (you can see it here: http://faerywinged.blogspot.com); I showed my Dad the other day and he bookmarked it. He was checking it again just 10 minutes ago: "why is it still empty?" "because I'm not in London yet?" "you should be writing about your expectations! That it's only a week away! I want to leave you comments!" haha, my Dad is so sweet. He didn't even really know what a blog was, until I showed him mine. So I promised him I will update it tomorrow morning, my task for my last day at work.

As much as sometimes I have hated being back here instead of overseas as planned, I am going to miss working with my Dad here. We've had some fun together these last 8 months, and I feel a lot closer to him than I have since I was a lot younger. I've been lucky.

7 days. I'm getting more & more excited.