Noel & I had such a wonderful time away this weekend. It was a short break, only 4 days, but just what we needed. It was SO warm up in Queensland, it was fabulous. Tshirt & skirt weather, always my favourite; the sun on our skin, the warmth of the air was as refreshing as the time away from work.

We flew up to Brisbane on Saturday and arrived mid-afternoon. We'd hired a car to drive up to the Sunshine Coast, which is about an hour or so out of Brisbane, and our accomodation was right near the beach. We'd packed jackets and warm clothes, and didn't need them at all. We spent time with my family on Sunday morning, with my favourite aunt and cousin who are living up on the Sunshine Coast and whom I miss dearly.

My uncle's wedding was on Sunday afternoon and it was lovely; it was held in this rainforest-style sanctuary, and was relaxed and just them. The ceremony was short and casual, and the bridal party looked beautiful. She walked up the aisle to a song by the Cure, rofl.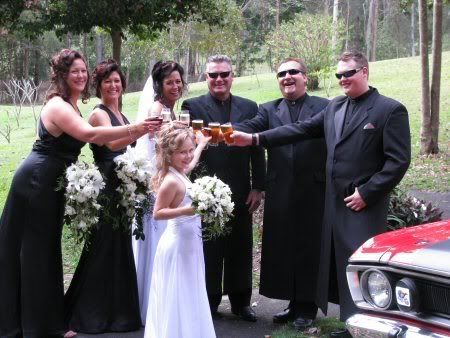 The bridal party



My Nan & I, at the reception



Noel & I, outside our apartment on the Sunshine Coast




On Monday, Noel & I drove down to Brisbane for the night. It also happened to be my birthday that day; 28, and I finally feel like my life is on track. We had a few dramas finding our hotel, for a little while thinking we were staying in a somewhat dodgy area of the city until we realised we were in the wrong street. Oh, the relief when we discovered we should have been on W Terrace, not W Street! We went shopping in the afternoon and I brought a pretty top from one of my favourite designers, Alannah Hill, yay :)

That night we had dinner with
thebluebells, who is one of my most favourite people in the whole world; it was SO good to see her again! It had been a year since our amazing Tori adventures, and to commemorate, Noel had designed some tshirts for us...






on the from it says "better than the best day ever" (something we kept saying over & over on the trip!)



on the back it also says "better than the best day ever", and "Ris, Jade & Mr Happy", then the dates of the 3 shows we went to, and the lyrics of the Brambles verse from Cooling, that Tori played for the first time in 10 years at the Brisbane show (partially because of our request!)



happy Tori tour buddies :)

thebluebells took us to her favourite Japanese restaurant and we ate SO much food: vegetable tempura, various sushi & sashimi pieces, grilled squid, yummy potato salad. Then we were for coffee/dessert at the Hilton, and we talked about politics all night which was fabulous :D I love spending time with Ris, it always makes me so happy to see her.

Tuesday morning we did a little bit more shopping, and then we flew back home in the afternoon. The time went SO quickly, but it was definitely relaxing; you know it's always a good thing when even I can sit still and not feel like I need to do anything, because that doesn't happen very often at all.